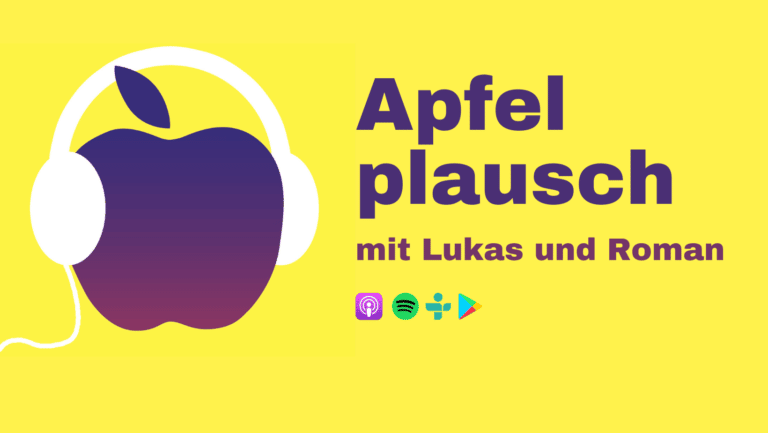 iPhone 13, iPhone 14, iPhone Fold, I would like to put it this way: If you are not into rumors and uncertain assumptions, you should not listen to this program. If you like leaks, on the other hand, you will love the episode. So welcome to Apple Fun 182.
As always in the last almost 180 episodes, we are starting today's issue again with mail from you and manage to chat for almost a quarter of an hour over a letter. Well, if that is not something…
Today's topics
00:00:00: Intro and drivel
00:02:30: Listener post: Why is Apple always later than the competition when it comes to new features?
00:16:15: iPhone 13 rumors: 1TB storage, new cameras, no USB-C and yet no Touch ID?
00:35:00: iPhone SE 3 in 2022? Rumors about the iPhone 14 without a notch.
00:45:30: iPad Mini Pro on the march? Would buy something like that? (+ new pencil)
00:54:40: Is Apple building an e-scooter?
01:01: 00: iPhone Fold will be iPad-sized in 2023?
Apple fun player
A lot of rumors about the iPhone of tomorrow and the day after tomorrow
For the first time, the iPhone 13 could have more memory than the last models: A TB stand in the room. It should also be some Camera improvements give, but one of us is not satisfied with it.
Touch ID is supposedly off the table again, just like USB-C, it would be sad, but there is still confusion. We strive to classify it.
Then we look at the time after that: The iPhone SE may get 5G in 2022, but it will remain so lame and boring? And the iPhone 14, well … the iPhone 14 has a hole in it.
Strange rumors about the iPad
In all honesty: who seriously believes in an iPad Mini Pro – or iPad Pro Mini – no matter how you say it, it sounds and is stupid, with all due respect, right? We are discussing a rumor.
And then let's talk about one more clearly less wild rumor.
Apple's plans with mobility
Maybe there is no Apple Car, but one strange scooter from Apple? This has been speculated, at least recently, and we are classifying it.
How big is the iPhone Fold getting?
And at the end there is a showdown between two schools of thought, which once again irreconcilably clash, are the background new forecasts for the iPhone Fold. Will the duelists still manage to find a compromise?
Support apple chat on Patreon
Do you like to hear the apple chat and want to support us a little? We would be incredibly happy …
-> Support apple fun on Patreon
Listen to the podcast directly
-> Support apple fun on Patreon
You can find us here on social media and on Patreon:
Do you want to have an apple chat?
Then write us your opinions, assessments, topics, experiences and suggestions. We like to read them out and answer every letter!