---
Netgear WAX218 is a slightly simpler access point with plenty of power.
In some situations, we do not need the ability to remotely control our wireless network in detail and we know from the start that it only needs to be used over a more limited area without the need to build on to create better coverage over greater distances. At the same time, these more space-limited surfaces can often accommodate devices that need a higher throughput with higher individual performance, but without compromising on a simple but at the same time powerful interface for installation and handling.
The solution from Netgear's side is here called WAX218, which is a flexible and very easy to use access point for smaller offices or SoHo installations.
Multigigs LAN port
Netgear WAX218 is one of the top models among Netgear's standalone access points for the SMB segment / prosumers and as the name suggests, it is based on the latest Wi-Fi 6 or ax standard. The model measures 205.7 x 205.7 x 34.8 millimeters, weighs 788 grams and has a soft shape with both rounded edges and a slightly rounded front and back. On the front we find Netgear printed in the middle of the otherwise completely white device and, in the lower edge, four LEDs that give us a clear picture of the device's status and how it communicates.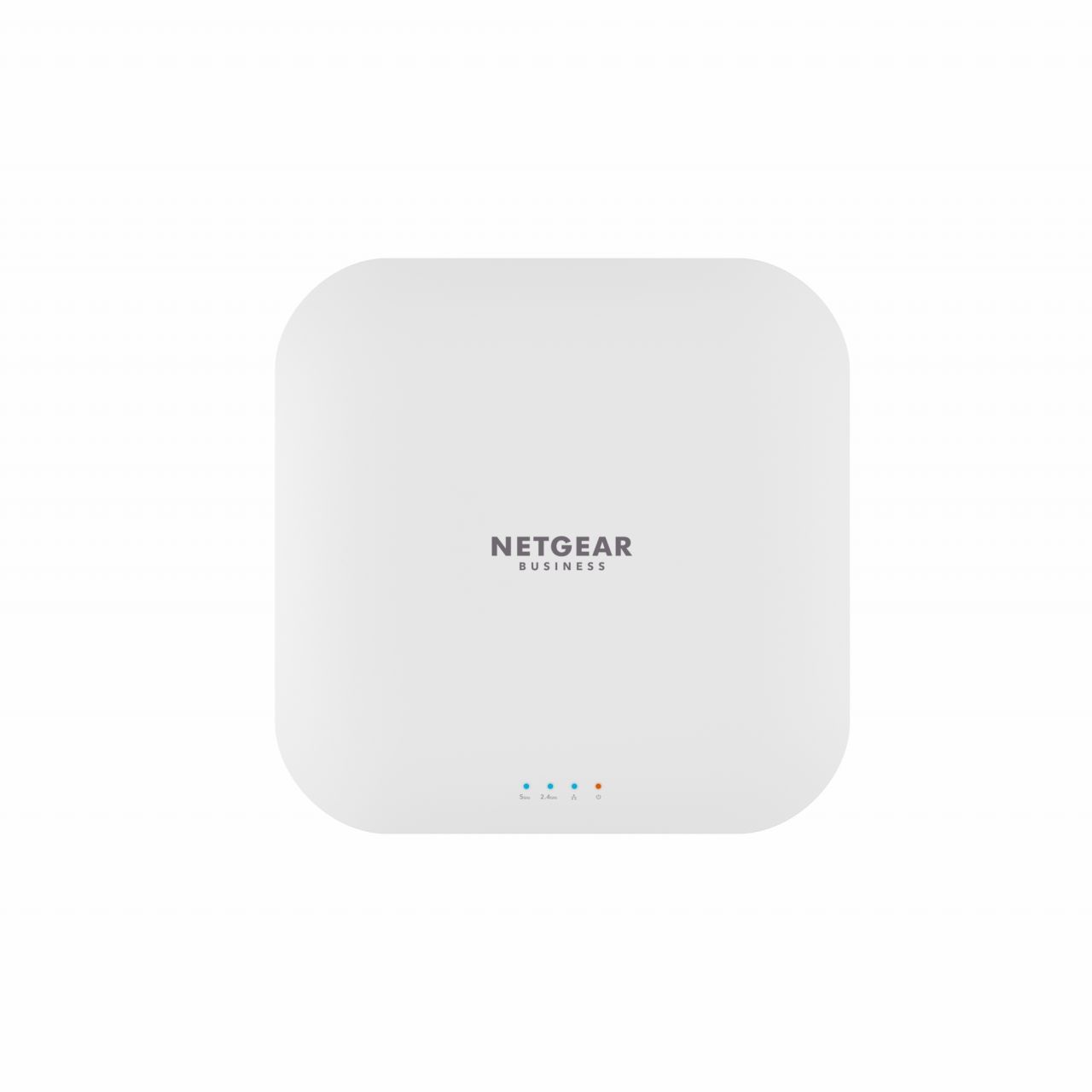 There is one LED for the 2.4-gigahertz band, one for the 5-gigahertz band, one for the LAN port and one for the power connection. The first two will glow blue if they work but have no clients connected and will change to a flashing blue light when clients are connected and data is being sent. Should the light be off, it means that this band is deactivated.
The LAN LED lights up blue when a device is connected and starts flashing blue when data is seeded or received. Should the LED be off, it means either that no PoE device is connected to the port or that no Ethernet signal has been detected. The last LED will light yellow / orange when the unit has power on and off when no power is on. This can sometimes be a little confusing as we are usually used to a green light when everything is okay.
Many mounting options
On the back of the Netgear WAX218 we find, in a small phase-out, a reset button, a 2.5 gigabit LAN / PoE port and a separate 12 volt / 2.5 amp power supply. The reset button has a double function and if it is pressed for two seconds, the access point restarts while, if we press for ten seconds, it returns to factory settings. There are also attachment points for easy mounting on either walls, ceilings or on so-called T-rails. On the short side there is also an attachment point for a Kensington lock.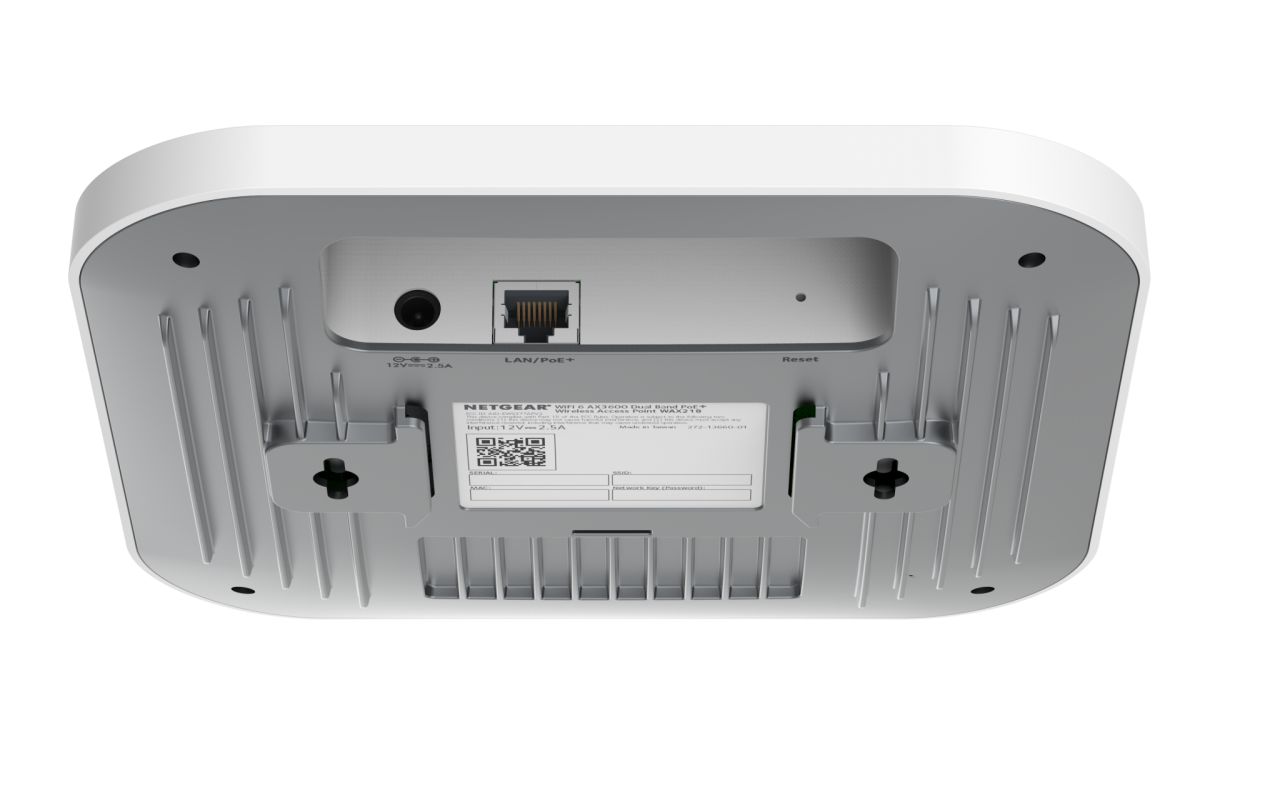 The device needs to be connected to a PoE + -based switch (803.2.at) unless the separate power connection is used. Should a PoE switch (803.2.af) be used, the device will certainly work, but with limited performance.
How to install Netgear WAX218
We begin the installation of WAX218 by first identifying something of a central location for the catchment area we want to capture with the access point. We then connect the device with an RJ45 cable to a PoE + switch such as GS305EPP or MS510TXUP if we want to take full advantage of the multigig performance. If you do not have a PoE + switch, you will need to use a separate power adapter, which is not included with this unit.
Properly placed and connected to the network, we begin the initial so-called Day Zero installation which can be carried out in two ways:
Connect directly to the access point via Wi-Fi
We start by connecting our computer or mobile device to the WAX218 administrative SSID. This is available together with the device's unique admin password printed on the back of the device.
Open a web browser and type https://www.aplogin.net or https://192.168.0.100 to get to the Day Zero login page.
From this page, we must first enter a new password to log in to the administrative interface. Then we will name our first public SSID, which we will then connect to. To this we then link a unique Wi-Fi password that must be between 8 and 63 characters long. Finally, click the checkbox to accept Netgear's terms and conditions followed by Apply. After this, the access point is restarted and we can log in to our new SSID with our new password. When this is done, we are met by the device's real interface where we can continue the configuration.
Connect to the access point via LAN connection
We start by connecting our computer to an RJ45 port in the same switch that our access point is connected to.
Then we find out the access point's IP number, which we can access via our DHCP server or by using an IP network scanner. Then we open a browser and do not type the access point's IP address to get to the Day Zero login page. Follow the steps above to complete the installation.
Update the firmware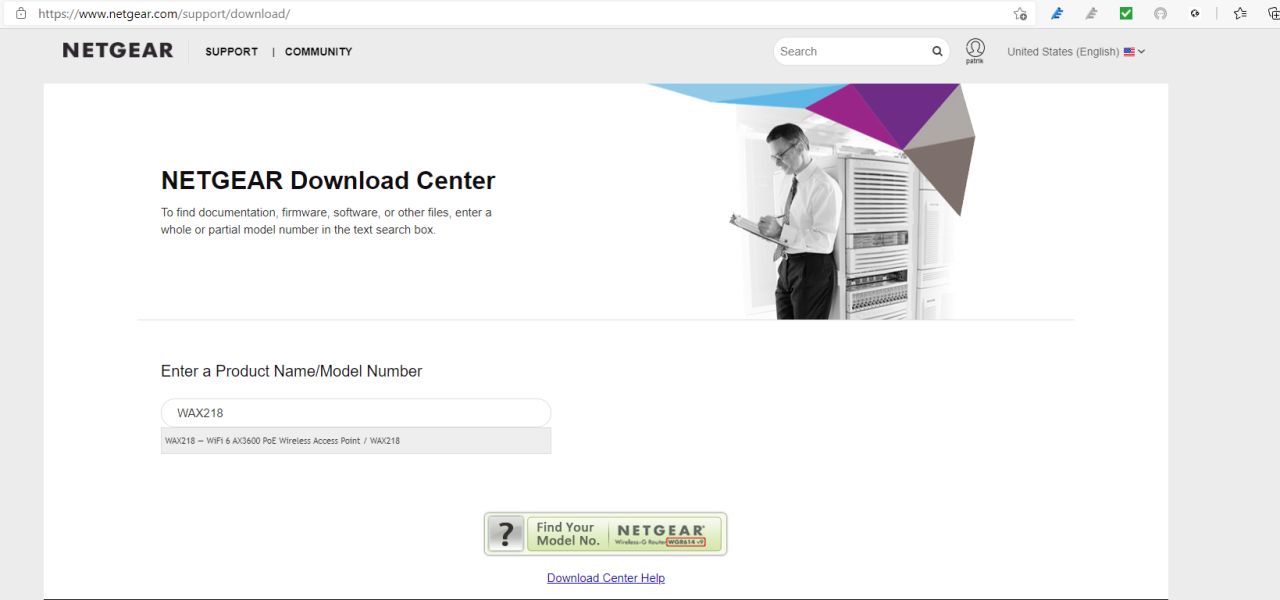 The first thing we should do after the initial installation is to update the device's firmware, which in the current version is a manual process that is performed by first logging in to the device's interface and then going to the System manager tab and selecting Firmware. Here we can see which version is installed. To download an updated version, we go to netgear.com/support/download where we directly enter WAX218. On the right side, the latest firmware version will be presented. We download this and return to the admin interface where we under Firmware Upgrade click on Choose File. We select the recently downloaded file and start the update.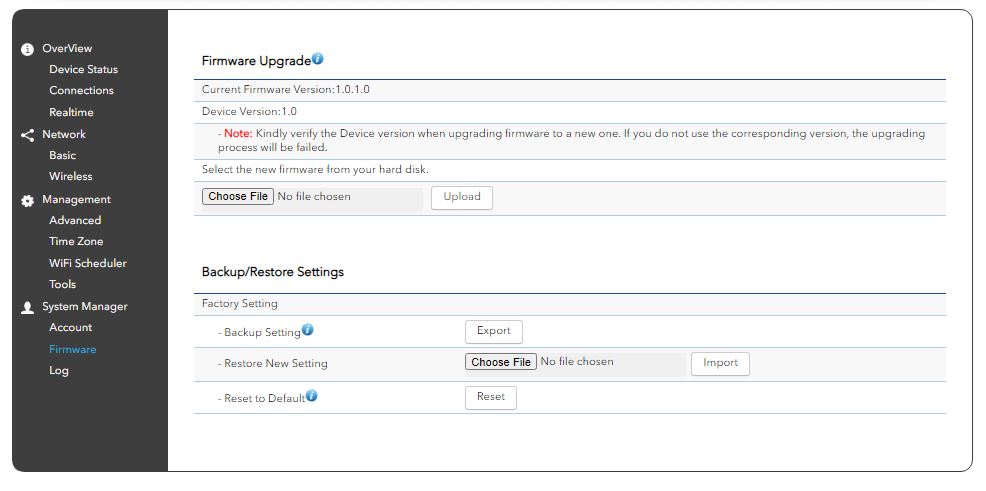 When the upgrade is complete, we log in again to the access point where we perform the settings and configurations we need, which includes configuration of guest networks, management of security and optimization of high throughput modes or in some modes also manually adjust the signal strength of the antennas for to optimize these towards specific devices.
We can also set parts as the maximum number of clients per band, we can turn off the AX access for the 2.4-gigahertz band if we have a large number of older devices that have problems with the new standard and we can set a fixed schedule for our SSID when Wi-Fi should be available or not. The latter can be clearly useful for, for example, a guest network that should only be active during store hours or the like.
Distribute the bandwidth
Finally, we can set up parts such as Band steering, set up a Radius server for validation which can also be connected via a NAS if we had one connected to the network, and set up so-called traffic shaping. The latter is a technique for controlling exactly how much of the total bandwidth each SSID or user connected to an SSID may use in the matter of upload and download traffic. This is also a very useful function if, for example, we want to be sure that the company's primary SSID always has sufficient bandwidth.
NOTE! For Band Steering to work, both the 2.4- and 5-gigahertz band must have the same SSID settings, which also includes security settings.
Performance and safety
We go further and look at the device's performance and integrated security. As mentioned earlier, the Netgear WAX218 is a device in the slightly higher performance range of the Netgear WAX2xx series. The model also has an additional designation for the AX3600 which indicates its maximum theoretical throughput of 3.6 gigabits per second. This is distributed at 1200 megabits per second over the 2.4-gigahertz band and 2400 megabits per second over the 5-gigahertz band, which is possible via the internal 4X4 transmit and receive solution.
So what does this really mean? We set up and tested our WAX218 in three different environments: first in our test lab with both fixed walls that extend over several floors, partly in a cafe with a large common area and finally in a local office that also extends over a large open space with many computers and mobile devices.
If we start short with the single unit performance, this peaks at about 650 megabits per second with clients in the same room and just over 480 megabits through the ceiling / floor. The great benefit of the device – which is also its main task – is the serving of multiple clients. We had a maximum of 68 devices connected, consisting of computers, streaming HD TV / projector, and mobile devices. Despite this, we were able to carry out our test set with Team and Webbex-based digital meetings without interruption, which is clearly impressive.
In addition, we have enabled multiple security functions at device level such as the use of four different SSIDs with an internal priority, validation with WPA3 and monitoring with SNMP v3 via HP OpenView access, which gives a very good picture of how well equipped the access point is an internal hardware perspective.
Proper placement is a must
What we noticed, however, was that when the distance to the unit began to affect performance, the speed then dropped quite quickly for each additional meter we moved. This underlines the importance of finding a centrally located location for the access point in the locations where it will be used over a larger area. If, on the other hand, it is only a normal-sized group or conference room of, say, 45 square meters, the location is less important.
Just like with the WAX610, the WAX218 also works with a PoE-based switch (803.2.af), but this will probably mean that the model works with reduced performance and lower throughput. So the recommendation is to connect the device to a PoE + switch (803.2.at) such as GS305EPP or MS510TXUP if you want / can take advantage of the multi-gig capacity over the LAN port.
Another advantage of using an Insight-capable switch is that, even though the access point itself does not support cloud management, we can remotely control parts such as power on and off from any location. This can be very useful both in situations where we have set up redundant access points or if a device has locked and needs to be restarted.
Optimal use of Netgear WAX218
WAX218 is not as flexible a solution as WAX610, which is also reflected in a more limited or rather more targeted use towards certain specific environments. By connecting a WAX218 to a PoE + switch, we can quickly create wireless access points in these locations, which can be anything from an office to a café or larger meeting room. We can also create an easy-to-use redundant solution where we have another WAX218 connected to the same PoE switch. This is connected to a PoE + port which is normally switched off but which, in a situation where the primary WAX218 unit goes down, can be activated directly via Insight.
Of course, we can also use several WAX218 devices to create even more wireless networks over different areas of the company's premises or offices. It can be, for example, one unit per floor or where we want to add another level of security by dividing the network into different fixed ports.
One feature we also want to highlight is the ability to set priority data per SSID and in this way create different wireless networks for different purposes, a bit like a fully QoS-optimized network for, for example, digital, high-resolution, meetings.
SPECIFICATIONS Netgear WAX218
Manufacturer: Netgear,
Approximate price: SEK 2,512 incl. VAT, SEK 2,010 excl. VAT
Number of ports: 1 pc 2.5 gigabits PoE +
Measure: 205.7 x 205.7 x 34.8 mm
Weight: 788 grams
PoE level: 15.7 watts
Mangering: browser
Band: 2.4 + 5 GHz
Maximum theoretical transfer rate: 600 + 2400 Mbps
Security: WPA2 / WPA3 + 4 SSID + MAC address filtering
For complete specification visit: https://www.netgear.com/business/Wi-Fi/access-points/wax218/