With the Specter x360, HP combines exquisite design with outstanding power that lasts a full working day.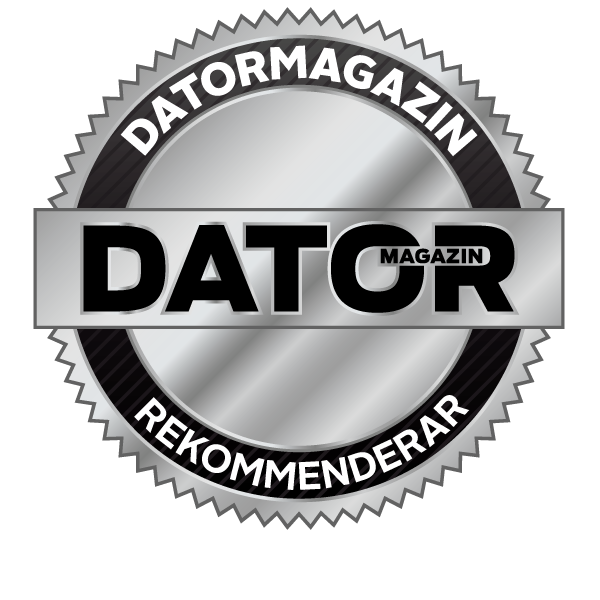 HP's Specter series has always offered that little bit extra when it comes to design and portability. For the new Specter x360, which is based on the eleventh generation Intel Core processors, HP takes another step with the most stylish and well-thought-out "convertible" laptop the company has launched at the time of writing. Because just as the name x360 suggests, the model has a screen that can be rotated 360 degrees for easy use as both a computer and tablet or as a type of presentation or entertainment device. The rotation takes place around two stylish and slightly stronger hinges that give the unit high stability when we work with the pen against the screen.
Turn off the camera with a button
We start by examining the unit's exterior where we find a chassis made entirely of aluminum with nicely angled edges and corners. These corners are not only visually appealing but also have a function as the right rear corner has an integrated USB Type-C with Thunderbolt 4 connection. In the western rear corner, HP has placed the device's switch, which is a smart solution.
In addition to this, the device has another Type-C / Thunderbolt 4 port, a very fast SSD card reader, a USB-A port, and a combined headphone/microphone jack. Along the right side, there is also a so-called killswitch function for the device's integrated webcam. This is a physical switch that turns off the webcam to increase our privacy. The device also has a similar function for the microphone, but this is a combination function for the keyboard's F12 key which, when pressed, turns off the mic.
Reading Tips: Dell XPS13 2020
Optimized screen utilization
We continue with the screen which is 13.3 inches and has a so-called screen-to-body ratio of 90 percent, which gives a very slim profile. The screen works with a maximum resolution of 1920 × 1080 pixels and offers sufficient brightness to be able to work in any location. But above all, it has very pleasant color management with clear colors and good contrast, and really good blackness. The unit has three preset working modes: normal use/browsing, image editing, and film, which together mean that we can always optimize the image in a smooth way based on what we want to do. The film mode is also clearly good for gaming as well.
In the same way that we can handle different image modes, we can also use HP's Command Center software. This is a solution that allows us to fine-tune computer performance and fans and more. This is a smart solution that could have been even smarter if we could bind certain settings to specific programs or games so that the selected setting is loaded automatically.
ADVERTISEMENT – Check out the latest Specter x360 on Amazon
The HP Specter x360 is equipped with sound optimized by Bang & Olufsen, which provides a clean sound image that lacks a bit of weight. On the other hand, we get a very good Wi-Fi 6 integration with fast switching between access points and stable performance.
Power that impresses
We go over to the inside of our Specter x360 and here we find really interesting parts. The basis of our test model is Intel's eleventh-generation Core i7-1165G7 processor. This is a quad-core HT processor that has a maximum turbo frequency of 4.7 gigahertz. For this, we get Intel's Iris X graphics, 16 gigabytes of LPDDR4x RAM running at a full 4,267 megahertz and storage based on Intel's 512 gigabytes SSD – HBRPEKNX0202AH – which is supplemented with a 32 gigabyte Intel Optane solution in the form of HBRPEKNX0202AHO.
Together, this creates a platform that is extremely responsive where both programs and files are loaded immediately. We get a whole new level of efficient multitasking and above all a graphics part that allows us to get clearly approved performance, to be an iGPU solution, even when we work with more demanding image and film editing.
Read also: Best Tablet for 2021
Really sharp performance
To add some value to the performance that the unit offers, we reach in Handbrake and 4K AVC to 4K HEVC up to just over 136 frames per second, in 3DMark Time Spy v1.2–1 734, in 3DMark Fire Strike v1.1 – 4 797, in SYSmark 25 Creativity – 1,309 and in PCMark 10 Applications – 10,278, all of which are really good values ​​and a clear performance boost in all segments from the previous model.
One thing that we've had some views on over the years when it comes to HP's laptops has been the keyboard. But for this Specter x360, we get an almost perfect keyboard with a very high typing feel and impact precision. We also get a large, uniform touchpad that is perfect when we work with gestures and various "pinch commands". Just like with the screen, HP has made optimal use of the device's surface and the keys reach all the way to the edge, which means that we get full-size keys.
We round off with the device's battery which is 60 watt-hours. According to HP, this should be able to give us up to 22 hours of use. We never get this far, however, but in mixed-use based on our rolling, reality-adapted scripts, we got out just over twelve hours, which is clearly good.
HP Specter x360 13
For
Really nice device with a solid construction, high performance, good door placement, light and flexible, rotatable screen, clean sound, fast Wi-Fi.
Against
The sound lacks a bit of weight, we would have liked to have seen the model with E-sim.
Recommended to
This is a versatile, very stylish model that suits everything from students to professionals who want to "show off" their computer.
SPECIFICATIONS HP Specter x360 13
Manufacturer: HP, www.hp.com
Approximate price: $1,349.96
CPU: Intel Core i7-1165G7
FRAME: 16 GB 4267 MHz
Graphics: Intel Iris X
Screen: 13.3 FHD
Storage: 512 GB SSD plus 32 GB Optane
Sound: Bang & Olufsen with HP Audio Boost 2.0
Wireless: Wi-Fi 6 + Bluetooth 5
Camera: HP True Vision 720p HD IR Camera
Ports: Dual Type-C / TB4 + USB-A + Audio + mSD
Measure: 306.7 x 194.5 x 16.9 mm
Weight: 1.27 kg
Fotos: Fotogaler?a | La marihuana llega a las farmacias de Uruguay | Internacional | EL PA?S
donde comprar cialis generico
una estudiante espa?ola en italia: "tenemos fiebre, no nos atienden y nos echan de las farmacias"