Samsung Smart Monitor M7 is the screen that does not require a computer for you to work. In addition, you get the manufacturer's TV operating system on the purchase.
From time to time, Samsung presents new solutions on a proven concept. Smart Monitor M7 is really an excellent example of that, the device combines a traditional screen with wireless mobile connection which via a built-in app system allows us to both run Samsung's smart Hub (just like from a TV) but which also allows us to connect to the company's computer for access to Office 365 without a local computer. But as is usually the case with what is new, there are certain childhood diseases and thus potential for improvement.
Works with mouse and keyboard
If we look at the Smart Monitor M7's exterior, it is a model with a classic, simple design. We get a smaller, flat, table stand that attaches to the back of the screen via a slightly angled steel frame. This means that it can neither be adjusted in height nor rotated. However, it can be angled between -2 and +22 degrees. We can also use the integrated Vesa 100 × 100 brackets for an external solution that allows us to mount it on the wall, or on a screen base that helps us with the ergonomic parts.
The connections are quite interesting. There are dual HDMI ports as well as dual USB ports and a USB-C port with support for 65 watts of charge. Unlike normal screens that have a USB port to a computer, these can also be used directly by the screen for a mouse and a keyboard, more on this soon.
Smart Monitor M7 has both Dex and Airplay 2 support
Inside the device there are also wireless connections in the form of Bluetooth 4.2 and Wi-Fi 5. This gives us the opportunity to connect various accessories wirelessly, but above all the screen supports Apple Airplay 2 and can function as a second screen to your Apple computer (wireless) or as a larger screen for your mobile. But the part we really love is Wireless Dex. This is Samsung's own solution for using our Samsung mobile as a laptop, but which we now do not have to connect via cable. For anyone who uses a Samsung mobile with support for Dex, this is something we really recommend testing, because it directly changes the way it works. Of course, we can also mirror the phone to the screen in the usual way or easily touch the phone against the edge of the screen to start mirroring.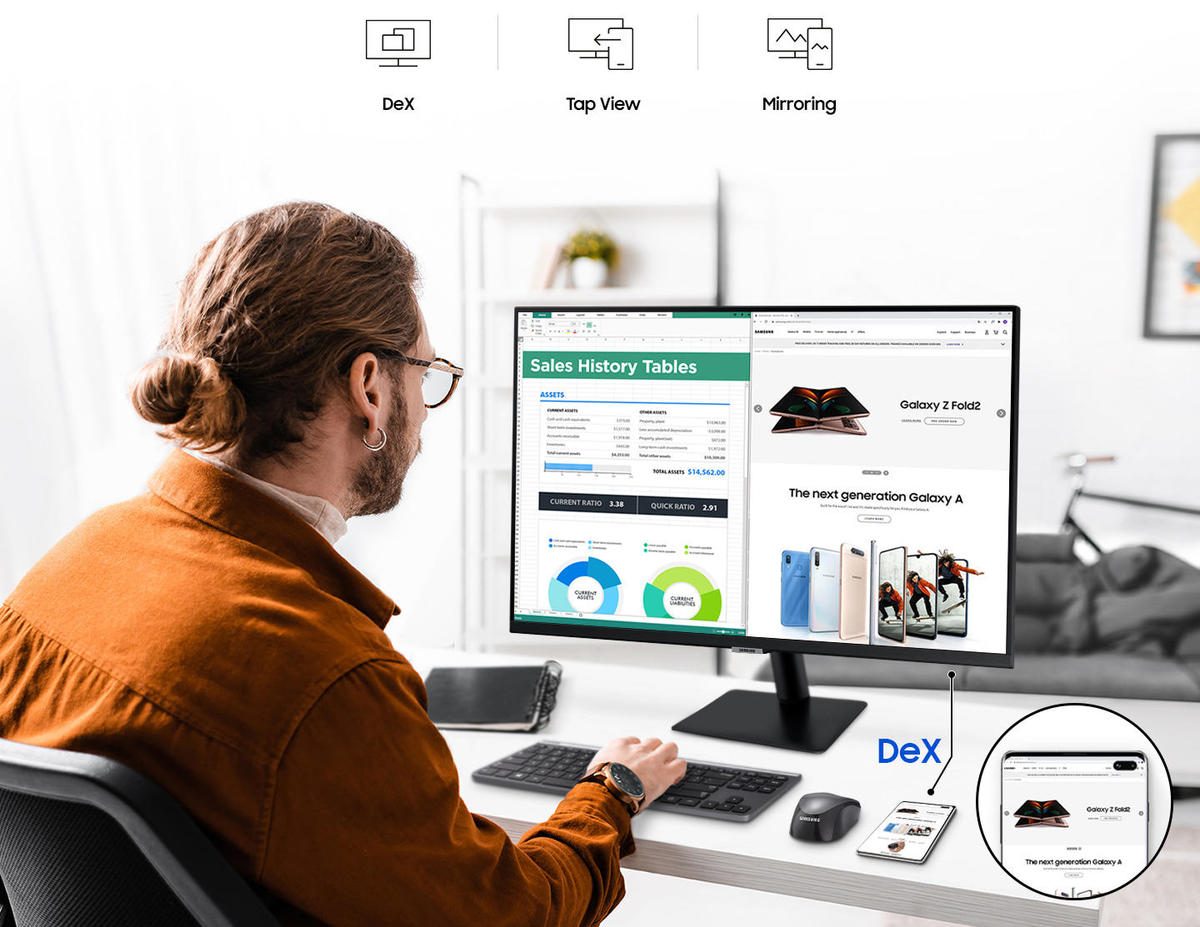 Good cloud integration
The screen also comes with a remote control, which is the same model used for Samsung TVs. However, this is not used to switch to a TV mode, but the screen has Samsung TV OS Tizen installed from the start, which means that we have access to the same Smart hub solution that we get on the company's TVs. This allows us to access parts like Netflix, Apple, TV, Youtube, Disney + and much more completely without an external box or computer. And thanks to the remote control's integrated microphone together with Samsung's digital assistant Bixby, it's also possible to talk to the screen to play content or handle other parts of Samsung's smart home solution.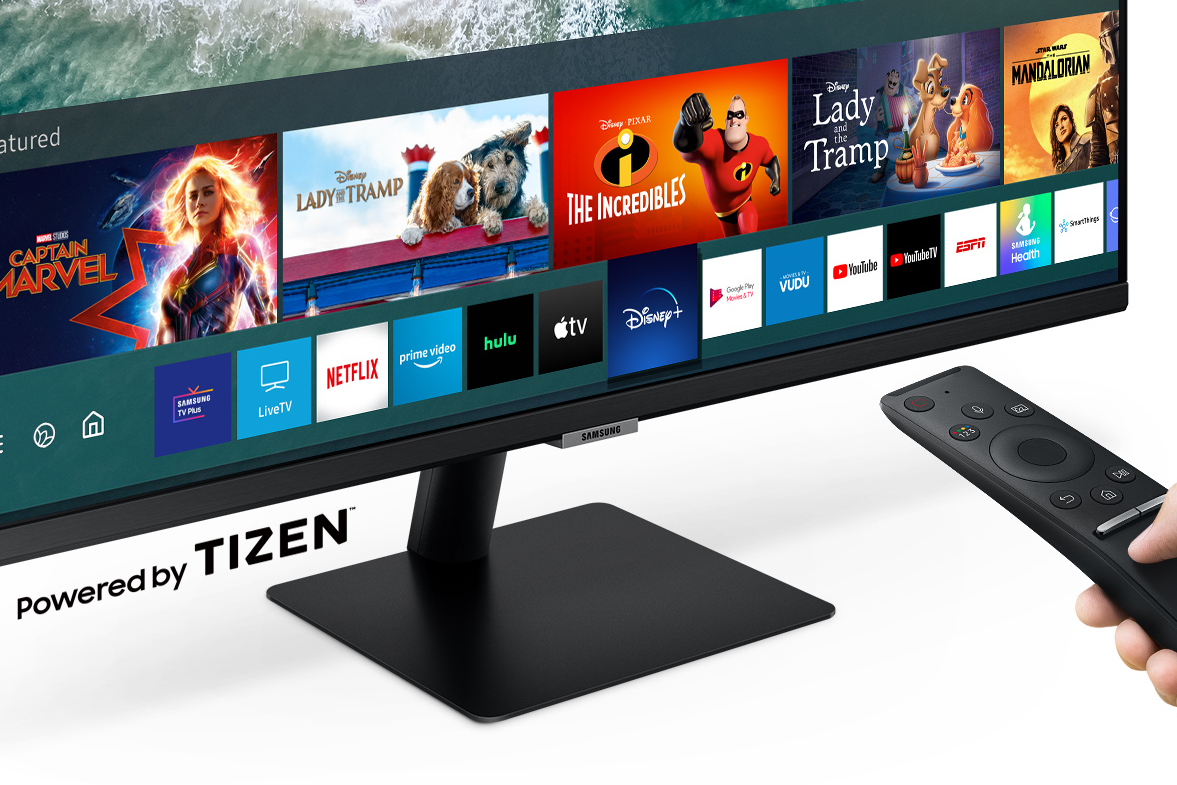 For this we also get the opportunity to connect to a remote computer via RDP for Windows or VNC for Mac. Unfortunately, the connection does not use a VPN but is protected by Samsung's own solution Knox. How this stands in terms of security in relation to a more traditional alternative, we have not looked more closely at this time. Regardless, the solution gives us direct connection to, for example, our office computer when we are at home, which is extremely useful in these times.
Smart Monitor M7 works fine with Office 365 in the cloud
We can also use the screen directly against the Office 365 cloud service. By connecting a keyboard and mouse to the screen, we can log in to our Office account for direct access to our files completely without a computer. We can also add other cloud services based on which services are supported, but here the screen is a bit more limited in terms of hardware and we can only add a certain number. We should also add that the screen can be connected to local media devices to play back images, movies and music, which gives the Smart Monitor M7 an even greater width.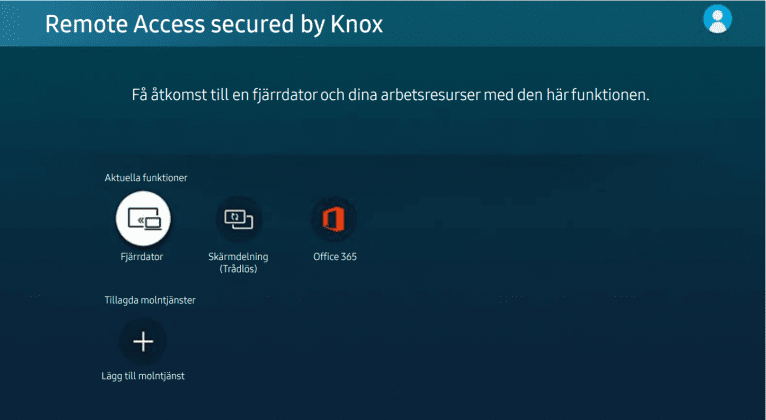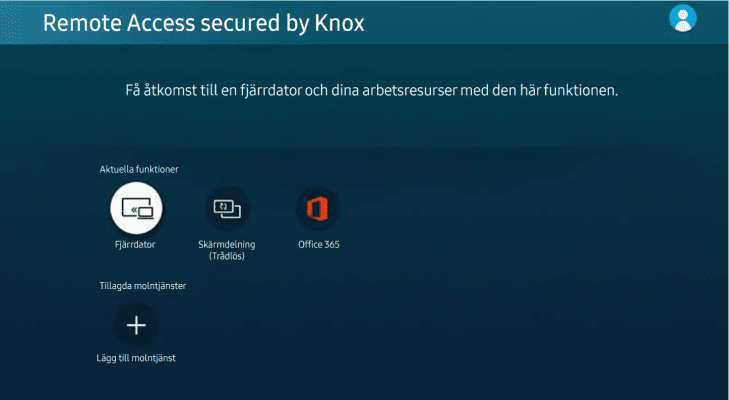 Nice screen with limitations
We then come to the screen itself. As the name suggests, it is a 32 inch model that uses a 16: 9 format and has a maximum resolution of 3840 x 2160 pixels. The surface of the screen is 697.31 x 392.23 millimeters and it is completely flat. The panel used is of VA model and has a typical brightness of 250 cd / ㎡ and it supports HDR10 and uses a maximum refresh rate of 60 hertz.
So what does this really mean? Well, we sit right in front of the screen, as we usually do when we work or watch movies and are ourselves, it works really well. But when the rest of the family also wants to look, and sit from more "angled" areas, the picture is not as good. The light has a tendency to bleed through in black areas, which may be part of the panel type's behavior.
Also read
Comparative test: Curved screens
Another part we are not completely happy with was the adaptive brightness management in the Smart Monitor M7. This should sense ambient light and constantly optimize the screen based on this. But the sensor seems a bit sensitive or stupid as we several times noticed changes from the centered speaker we had under the screen which seemed to disturb the sensor itself for some reason, so the tip here is to have it completely empty under the screen itself which worked better.
The screen has a response time of eight milliseconds and also has a specific Ultrawide Gameview mode for gaming, but we would not say that it is a game screen. We also lack features like PiP (picture in picture) or PbP (picture next to picture) which would have given us even more screen for the money. We must add that the Smart Monitor M7 also has integrated speakers that are actually, considering the price, really good with a clean and clear sound. They work perfectly for both movies and music as long as you are not too picky.
Samsung Smart Monitor M7
For
Compact screen, USB-C port, Samsung's smart Hubb integration, ability to connect to remote computer or cloud services without a computer, remote control, wireless integration with Dex and Apple Airplay 2.
Against
The VA panel has some weaknesses, would have been nice with a Thunderbolt connection, no VPN, we would have loved PiP and PbP.
Recommended to
This is a very versatile screen that is a perfect choice for you who work more and more at home.
SPECIFICATIONS Samsung Smart Monitor M7
Manufacturer: Samsung, www.samsung.com
Approximate price: SEK 4,300 incl. VAT, SEK 3,440 excl. VAT
Screen size: 32 inches
Resolution: 3840 x 2160
Brightness (average): 250 cd / ㎡
Update frequency: 60 Hz
Smart services: Bixby, SmartThings hub, DLNA, Remote access
Connections: 2 HDMI, 2 USB2, USB-C, WiFi5, BT4.2
Integrated sound: Yes
VESA mount: 100 x 100
Measure: 716.1 x 517 x 193.5 mm
Weight 6.5 Kg